Today, I am so excited to tell you about a new twist on the personalized "mom" jewelry. Meet Alex and Ani. They are already very well known for their wonderful expandable bangle bracelets, but now they have taken them to the next level by launching the brand new Custom Create section to their website. This new feature allows YOU to be the designer and create the bangle set that you want. To represent whatever or whoever you want. Birthstones. Initials. Whatever you want to celebrate and symbolize your loved ones. These sets are a super stylish and modern way to represent your children, grandchildren, nieces and nephews! I know what you're thinking–custom? Makes you think EXPENSIVE. The truth is that there is something for every budget! Choose from an array of birthstones, initials, personal and sacred charms and colorful vintage beads.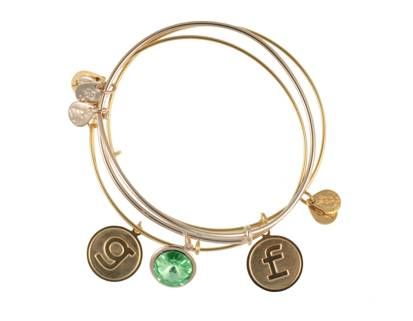 Alex and Ani sent me two silver expandable crystal birthstone bangles, which each have a birthstone. One to represent Mike and me–we both have the same birth month. The other to represent Lucas. These bracelets are so pretty! Plus, the expandable feature is so practical–you literally just slip it on and adjust for a perfect fit every time. Very easy to wear. Also, these bracelets are very versatile and go with everything–a night out or a pair of jeans. Love that!
Alex and Ani also has a line of Initial Bangles that you have to check out. These charms, which hang from the signature expandable bangles, are stamped beautifully with script letters, creating an elegant and classic look. These are also such a modern and unique way to symbolize your kids and loved ones. Mix and match initial bracelets with the birthstones for a custom look.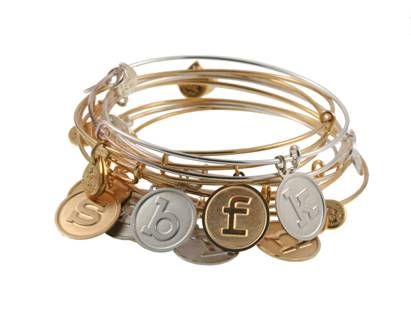 But Alex and Ani bracelets are obviously not only for moms–the initial and birthstone bangles are beautiful for all women. Plus, they have a huge selection of bangle bracelets that will have you swooning. Check out a few of my favorites!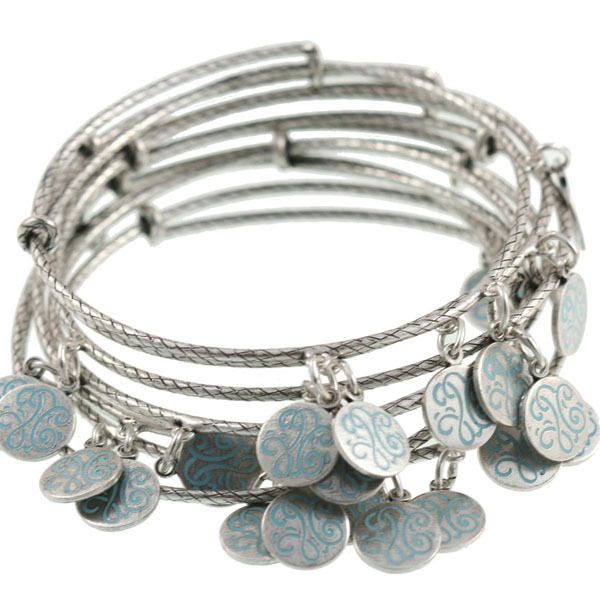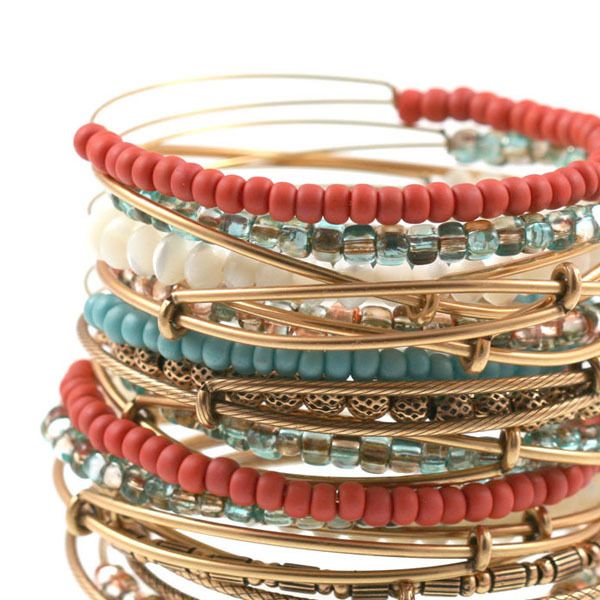 Want It: The birthstone bangles retail for $28 each and the initial bangles retail for $138. To purchase, please visit AlexAndAni.com.
This contest is closed. Congratulations to the winner, Laura!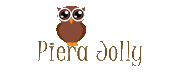 The featured product{s} in this post were provided to me free of charge by the manufacturer or pr company representing the company. All opinions expressed in this review are my own and not influenced in any way by anyone. Please refer to this site's Terms of Use for more information.