I am obsessed with Pandora Radio. It is the best way to discover new music and to listen to the music you love–both from the past and current. However, besides on the computer, I didn't have any other way to listen to Pandora. That really stinks because I would LOVE to be able to listen to Pandora while I'm in the kitchen cooking or doing chores around the house downstairs. That's why I've had an Internet Radio on my list of "wants" for a while, but I've never purchased one because the reviews are always the same–the sound is terrible on the Internet Radios on the market. So when I was contacted to review the iPad Docking Station by Acoustic Research. I had to try it out!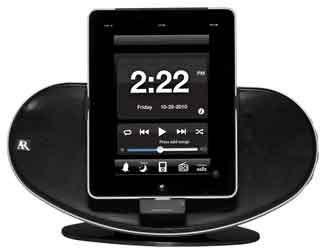 The Docking Station by Acoustic Research is honestly one of the coolest products I've received to review in a very long time. It is essentially a sound station for your various "i" devices. It will work with the iPhone, iPod, and iPad–just use the corresponding adapters, which are included in the box.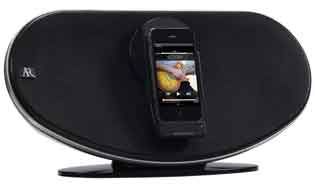 All you do is set the device into place and the Docking Station will now play the device's audio through the speakers. You can control your entire mp3 music library from the docking station, listen to FM radio, AND listen to Pandora Radio! It even comes with a remote control so you can turn the volume up and down, change stations, songs, scroll through your mp3 music library, and it also controls Pandora Radio. You know what else the remote control does? It switches the iPad's position from portrait to landscape, which is such an awesome feature if you like to watch videos from your iPad. So cool!
The Docking Station also charges your devices while they are connected, which is very convenient. Oh, and it's even an alarm clock!
So, I know what you're asking…"what about the sound quality?" That's where the iPad Docking Station really impressed both Mike and I. It sounds WONDERFUL! It has a 20 watt total audio power. The sound is loud and crisp and the perfect music solution for small spaces like a kitchen or bedroom. LOVE love LoVe it!
See It In Action:
For more information, please read more about the 
Docking Station
 at Acoustic Research. Retails for $129.99.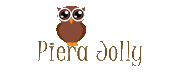 The featured product{s} in this post were provided to me free of charge by the manufacturer or pr company representing the company. All opinions expressed in this review are my own and not influenced in any way by anyone. Please refer to this site's Terms of Use for more information.