One of my favorite Christmas stories (actually one of my favorite stories period) is A Christmas Carol. My family and I were thrilled to have the opportunity to see this great story put on as a play at the Alliance Theatre at the Woodruff Arts Center in Atlanta last week. This is, hands down, the greatest holiday play I have ever seen.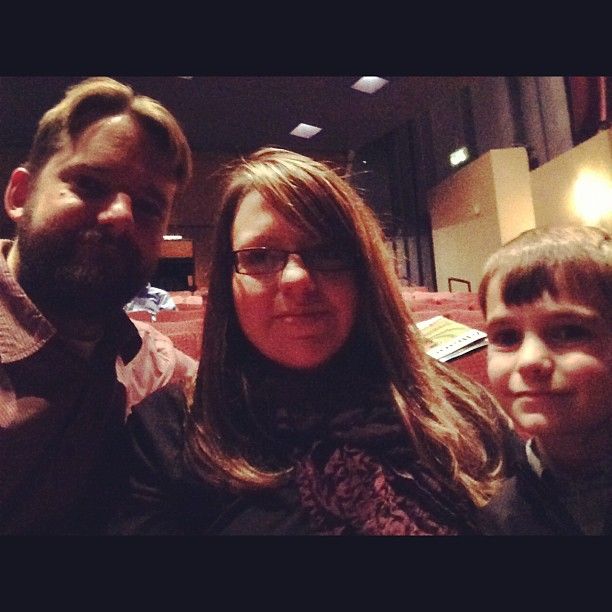 Waiting for the show to start
The Alliance Theater does such an amazing job. The acting, the singing, the stage, and the costumes are all top notch. If you haven't been, the Alliance Theatre, which is located in the Woodruff Arts Center, is a perfect little theater. It is large enough to fit plenty of people, but small enough for everyone to feel a part of the show. There really doesn't seem to be a bad seat in the house.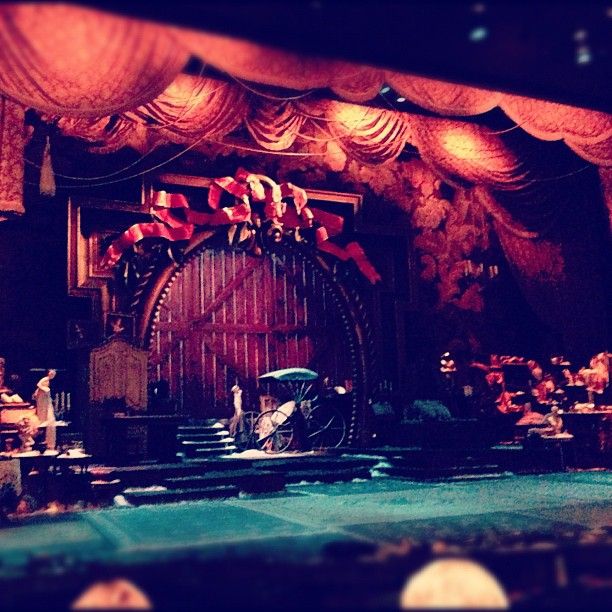 The gorgeous set
As I said, the play itself is outstanding. The acting is rich and humorous. And the singing is beautiful. All of the characters are portrayed brilliantly, especially Ebenezer Scrooge himself. Now for those of you that just landed on this planet, A Christmas Carol is a story that is, at its very heart, a story of redemption and second chances. Ebenezer Scrooge is grouchy old money lender that despises Christmas in every way. He is mean to everyone he meets. On Christmas Eve he is haunted by 3 ghosts; the ghosts of Christmas past, present, and future. Each one takes him on a journey through those times to help him see what shaped him into the man he had become, and where that would lead him if he didn't make amends.

Now of course I will leave it there so as to leave some intrigue for those of you that are not familiar with the tale. But regardless of if you are familiar or not, you do not want to miss this play at the Alliance Theatre. Make your plans to go see it this holiday season. This year was our second year seeing A Christmas Carol at the Alliance Theater and will most definitely not be our last. In fact, we've decided that it will be an annual holiday tradition!
Special Offers:
Woodruff Arts Center is excited to announce Sunday Family Series Days offering discounted access to the best in family centric performances and events. The first Family Series Day will take place on Sunday, December 9th. A free child ticket will be offered with the purchase a discounted adult ticket for the Alliance Theatre's A Christmas Carol; Atlanta Symphony Orchestra's Kid's Christmas – Second Chance Christmas; or the High Museum of Art's Second Sunday Funday with Young Audiences performances. Each offer is priced separately and includes a $10.00 food voucher for family-friendly specials at Table 1280 and the High Café. Discounted parking of $5.00 (regularly $15.00) is also available for purchase.
Carter's, the leading brand in children's clothing, will sponsor six Family Nights during A Christmas Carol. Family packages include parking, family photos, pre-show choir performances, and four tickets to A Christmas Carol for $125. Kids are encouraged to wear their pajamas to the show and to bring a new pair of pajamas to donate to the Carter's sponsored Pajama Program, providing PJs to children in need, most of whom are in foster care. Family Nights are – 12/6, 7:00pm; 12/13, 7:00pm; 12/14, 8:00pm; 12/20, 7:00pm; 12/21, 2:30pm; and 12/21, 8:00pm. Additional details below. (Pajamas may be donated on any day Nov. 23 – Dec. 23)
Pre-choir show
Ticket and Show Information:
Performances are Thursdays at 7 pm, Fridays at 8 pm, Saturdays at 2:30 pm and 8 pm, and Sundays at 2:30 pm and 7:30 pm, Nov. 23 – Dec. 23, 2012. An additional 2:30p performance will be added on Friday, December 21. There will be no evening performance on Sunday, November 25, and no performance will be held on Friday, December 7. Opening Night for A Christmas Carol is Thursday, November 29, 7:00pm.
Tickets start at $17.50 for children and $25 for adults are available at The Woodruff Arts Center Box Office or by calling 404.733.5000 or visiting www.alliancetheatre.org/carol. Discount rates for groups of 10 or more are available by calling 404.733.4690. Discount rates are also available for members of the military, seniors and students. The Alliance Theatre is located at The Woodruff Arts Center, 1280 Peachtree Street NE, Atlanta, GA 30309 – at the corner of Peachtree and 15th Street, in Midtown Atlanta.
*Complimentary tickets were provided. However, all opinions are my own.