Cirque Du Soleil's Totem is quite possibly the best show Mike and I have ever seen. It was amazing. AMAZING.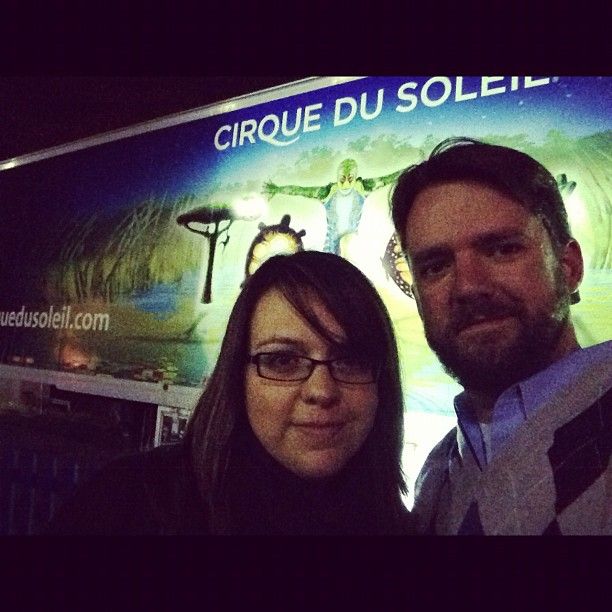 Cirque Du Soleil is truly one of the greatest circuses in the world. It's much more of an artistic style circus than the typical "circus" that many think of with animals and goofy clowns with big shoes and such. Cirque Du Soleil combines a theme with great music and the most entertaining and beautiful acts and physical feats that you will see live. Cirque Du Soleil currently has twenty different shows that can be seen all over the world including one in Downtown Disney in Orlando, FL and several in Las Vegas, to name a few.
In Atlanta, you'll find Cirque Du Soleil Totem located in the big yellow and blue tents (or Le Chapiteau) that have been set up by Atlantic Station. The stage is round so the seats wrap around the front of it. The whole environment is small so it gives a very intimate feel and there doesn't seem to be a bad seat in the house.
Totem is Cirque Du Soleil's new show that traces the journey of mankind from amphibian all the way to our desire to fly like the bird on top of a totem pole. Totem draws its inspiration from many myths, science, and theories on evolution. The show starts with a large turtle shell in the middle that is uncovered to reveal a skeleton shell over a small trampoline that amphibian dressed performers move and swing around on. You're immediately transfixed.
There are many acts throughout the whole show ranging from trapeze work to bouncing beam work, and yes even a few "clowns" (though there are no big red noses and goofy shoes). These are the funniest clowns EVER.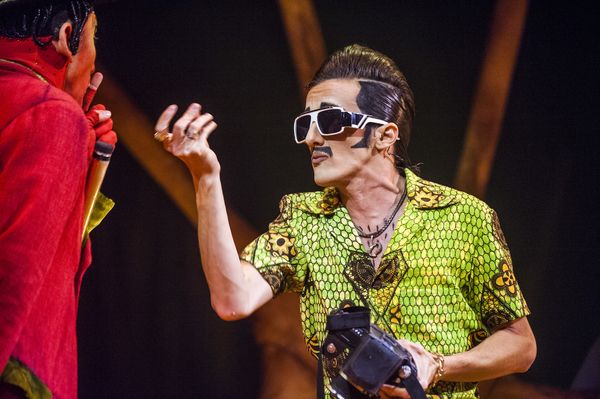 My favorite act was a group of women that came out on tall unicycles. They gracefully juggled silver bowls with their hands and feet, tossing them back and forth (even behind them), and catching them on top of their head; all while continuing to ride around the stage. Yeah. It was incredible. Mike and I kept looking at eachother in disbelief.
Each act was special and unique in its own way. Some were funny, some were exciting, some were passionate, and some were truly breathtaking. And what made each act work even better was how it was paired with its own music that truly made each performance its own experience. Perfect example of this was the final performance when all the acts came to the stage to dance. It truly left me with a permanent smile, chill bumps, and this overwhelming sense of joy.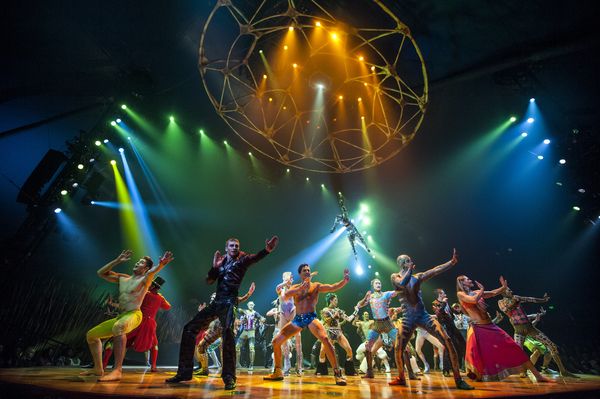 Mike and I (we used the evening to go on a long deserved date night) still haven't stopped talking about how truly awesome this show was. We have both always wanted to go see a Cirque Du Soleil show and our expectations were exceeded by far. You do not want to miss out on seeing Totem. You will never forget it.
For more information about Cirque du Soleil, visit www.cirquedusoleil.com.
*Complimentary tickets were provided. However, all opinions are my own.