Happy New Year to all of my readers!
Jolly Mom and Go Graham Go are proud to present you with "Mom Time in '09!" This is a party that is just for YOU! No baby products here (unless it is for mom's sanity)! Come pamper yourself with wonderful gifts all for MOM! It's about time right?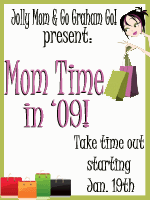 This party is kicking off January 19th! We already have over 30 sponsors with a total of over $1,000 worth of great prizes! Our prizes range from jewelry, bath and beauty products, organization, tote bags, diaper bags (that don't look like diaper bags), clothing, fitness, to electronics! We also plan on highlighting topics important to women, health, families, and helping others!
Here's a little history: Felicia at Go Graham Go and myself have never met face to face. We met each other probably a few months ago through Entrecard and instantly became great friends! We both have similar tastes and ideas and we both also have adorable toddler boys! We have been sharing tips and ideas over this time and decided that a Blog Party JUST for moms was well overdue! We started scheming and "Mom Time in '09" was born!
Want to get in on the entries early? Grab our button for your sidebar between now and January 18th and receive 2 extra entries in ALL the giveaways! Just leave a comment on this post and tell us where your button is located so we can check it out! Once the giveaways start coming, you have earned the right to leave 2 additional separate comments stating, "I Took the Time"!
Also, if you have entered my current giveaways, you can earn an additional 2 entries for each of those by grabbing the Mom Time in '09 button and putting it on your blog. Make sure you leave me a comment on the giveaway post with your URL.
And, to give you a small taste of what's to come, I have a giveaway just for moms today! Go read about Skin MD Natural skincare and enter for a chance to win by clicking HERE. Also, Go Graham Go will be giving away 3 awesome items just for moms starting today for the next 3 days! Kicking things off at Go Graham Go is the Intak water bottle from Thermos.
We hope that you'll join us for what will be a very big party dedicated to YOU!