A potty should be for one thing only…pottying. No talking potties or singing potties in my home, thank you very much. I already have way too many toys and products that require batteries in my home as it is. When buying a potty, I think parents should look for simplicity over fun and games. I mean, it's a potty…the last thing we want is for our children to be distracted when learning to use the potty. So, even though they may seem like a lot of fun; I would definitely bypass the battery operated potty! Another potty that fits the bill is the
Boon Potty Bench
. It's simple, sleek, modern, and multi-functional!
Boon very generously sent me a Potty Bench to review and it is one very cool, hardworking potty! The short, rectangular design makes this potty a great choice for small spaces. It can easily be pushed up against a wall or under a vanity or chair. The potty itself is very easy to use. It even has a convenient pull-out drawer for easy sanitary clean-up and also comes with a removable soft deflector shield (a must for boys!). When you close the potty lid, the deflector shield actually closes with it and tucks inside the potty opening.
The really cool thing about the Potty Bench is that it also doubles as a large, sturdy stool that holds up to 300 pounds! You just close the potty lid and it becomes a stool! This is an AWESOME feature! I am all about multi-functional products so that makes the Potty Bench a winner in my book. With the Potty Bench, there is no need to have a separate stool for the kids in the bathroom. They can just use this one and continue to use it long after they outgrow the potty. This will save space and money-gotta love that! The Potty Bench also has two enclosed side storage spaces. This is a great spot to keep potty training supplies like baby wipes, rewards, or maybe even a potty book for your child. It even has its own built-in toilet paper holder.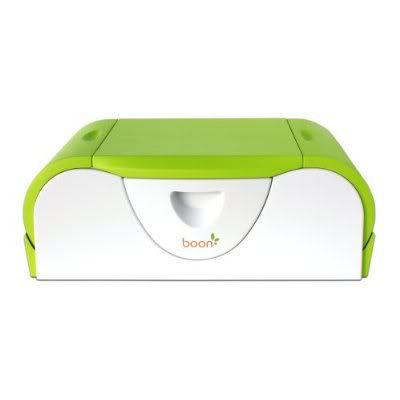 I do want to point out though that if you are starting to potty train an older child (like maybe 3 years old and up) then go see the potty in person first because the opening of the Potty Bench may be a bit smaller than what your child needs. For Lucas, who is 21 months old; it is not an issue at all though. So if the tushie fits then the Boon Potty Bench is an AWESOME potty! It offers parents more for their money and will be useful beyond the potty years. And, even though it has these "extras", the Potty Bench is still simply designed and will not distract potty training toddlers from the more important "task" at hand. And, I really have to applaud Boon for yet again offering parents products that are practical, functional, and pleasing to the eye!
See It In Action:

Want It: You can buy the Boon Potty Bench at various retailers across the US and Canada or online at Amazon for $29.99 plus free shipping.
This contest is closed. Congratulations to the winner, Chelise! Winner has been emailed and has 48 hours to contact me.