If you've ever been on a diet, then you have probably heard of the Cabbage Soup Diet. It has literally been around for ages and still gets talked about today. I remember hearing about it for the first time when I was in high school. So what is the Cabbage Soup Diet? It is a 7 day diet that promises up to a 10 pound weight loss by the end of the week. It's a strict diet with a short list of allowable foods that change every day. What doesn't change is the cabbage soup, which you are encouraged to eat in copious amounts throughout the week. It is not a long term diet plan at all and should not be followed for more than 7 days at a time. It is intended to be used as a jump start to healthy eating.
Cabbage Soup 7-Day Plan
Day 1: Cabbage soup and all the fruit you want except bananas. Drink unsweetened tea, black coffee, unsweetened cranberry juice, or water.
Day 2: Cabbage soup, all the low-calorie vegetables you want (except beans, peas, or corn), and a baked potato with butter for dinner.
Day 3: Cabbage soup and a mixture of the above fruit and vegetables (except bananas and potatoes).
Day 4: Cabbage soup, up to eight bananas, and two glasses of skim milk.
Day 5: Cabbage soup, up to 20 ounces of beef, chicken or fish, up to six fresh tomatoes, and at least 6-8 glasses of water.
Day 6: Cabbage soup, up to 3 beef steaks, and unlimited vegetables.
Day 7: Cabbage soup, up to 2 cups of brown rice, unsweetened fruit juices, and unlimited non-starchy vegetables.
Over the years, I've tried the diet a couple of times and always gave up around day 3. However, after a holiday season spent eating way too many treats and a very sad end to the year, I have been feeling like I needed a detox and a jump start to my weight losss goals. I decided to once again try the Cabbage Soup Diet. I started last Monday and finished the plan this past Sunday.
My Results:
I lost 5 pounds, which for me–a very slow loser–is a huge amount to lose in one week. Granted, some of that is probably water weight, but that's ok because I was surely retaining a lot of unneeded water after over indulging over the holidays, etc. I'm just happy to see the number going down, which gives me the motivation that I need to continue on the right path.
The Good:
After the seven days, I feel much more in tune with my body and able to assess whether I am actually hungry or just bored. I was able to cut out late night snacking and eat smaller portions than what I was eating before beginning the diet. I feel much lighter and ready to start a long term healthy eating plan now.
The Bad:
It is definitely a boring diet–especially on the non-fruit days. By Day 4, I couldn't stomach anymore cabbage soup. It wasn't the taste, really. The soup is actually quite good. It was a combination of the smell of the soup, which is very sulfury due to the cabbage and also eating anything for that many days in a row is very difficult. I powered through though and had the soup all the days except Day 7.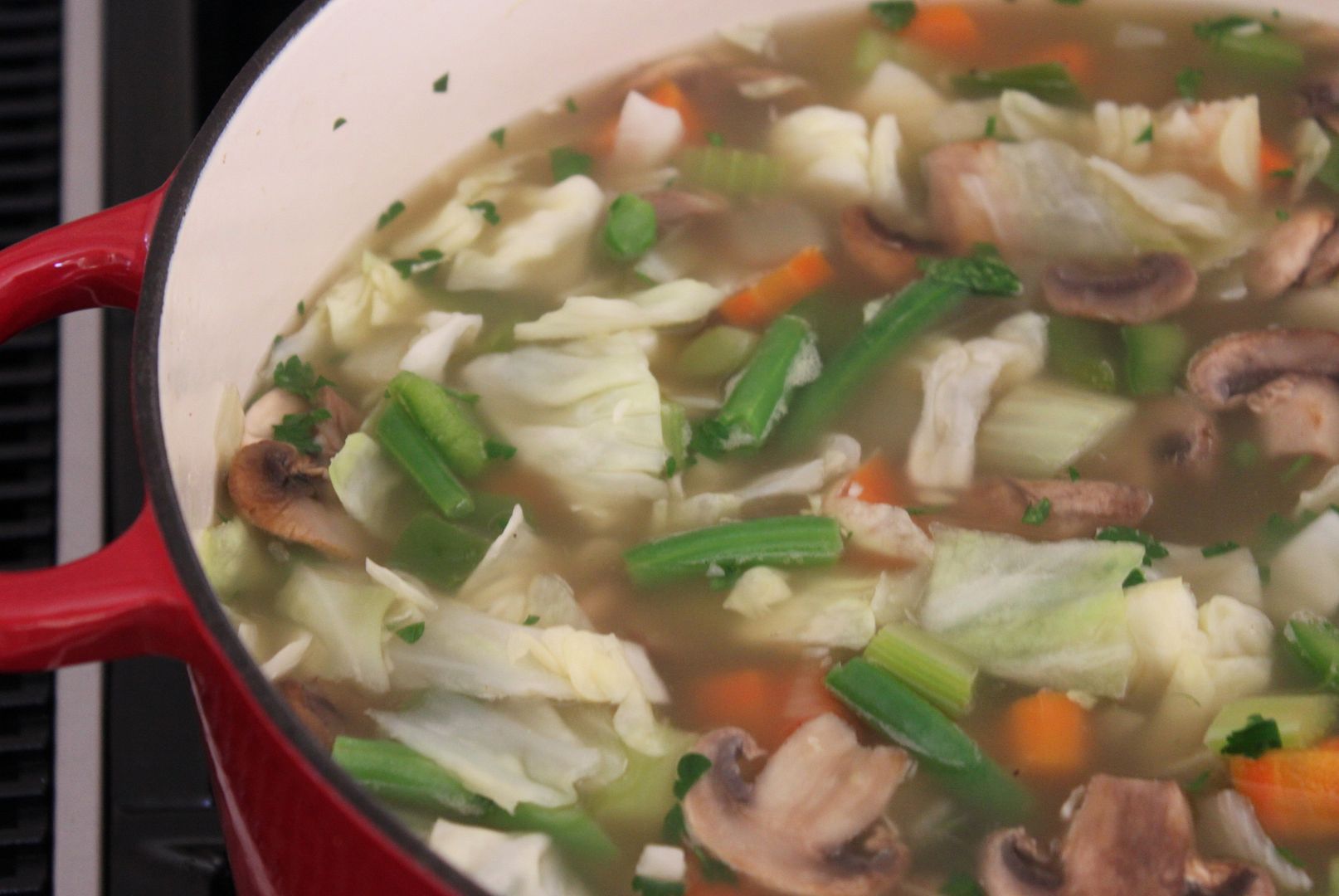 Speaking of soup, there are many versions of the Cabbage Soup on the internet. All of the recipes that I read said to dump a bunch of vegetables into a pot and cover with water and some seasonings. However, as in any soup, I find that it really pays off to put a little love into it by sauteing the vegetables first to develop a better depth of flavor. So I tweaked the recipe to my own taste and it turned out really delicious–even Mike liked it. I made two batches–one at the beginning of the week that was broth based and a second version at the middle of the week that included canned tomatoes. Recipe is provided below.
Cabbage Soup Recipe


Ingredients:
1/2 head cabbage, roughly chopped
2 large onions, chopped
2 green peppers
4 stalks celery
6-8 large carrots, sliced
1/2 pound green beans, sliced on diagonal
1 pound mushrooms, sliced
1/2 cup fresh Italian parsley, roughly chopped
Quart of chicken stock (I use Better Than Bouillon Chicken Base to make my stock when I don't have homemade on hand.)
Kosher salt and freshly ground pepper to taste
Cooking Spray
OPTIONAL: 16-28 ounces canned tomatoes, chopped
Directions: Spray a Dutch oven or large stock pot with a little cooking spray and saute the mushrooms until they are golden brown.
Remove the mushrooms and add the onions, green peppers, carrots, and celery. Saute for 5-7 minutes until vegetables are softened.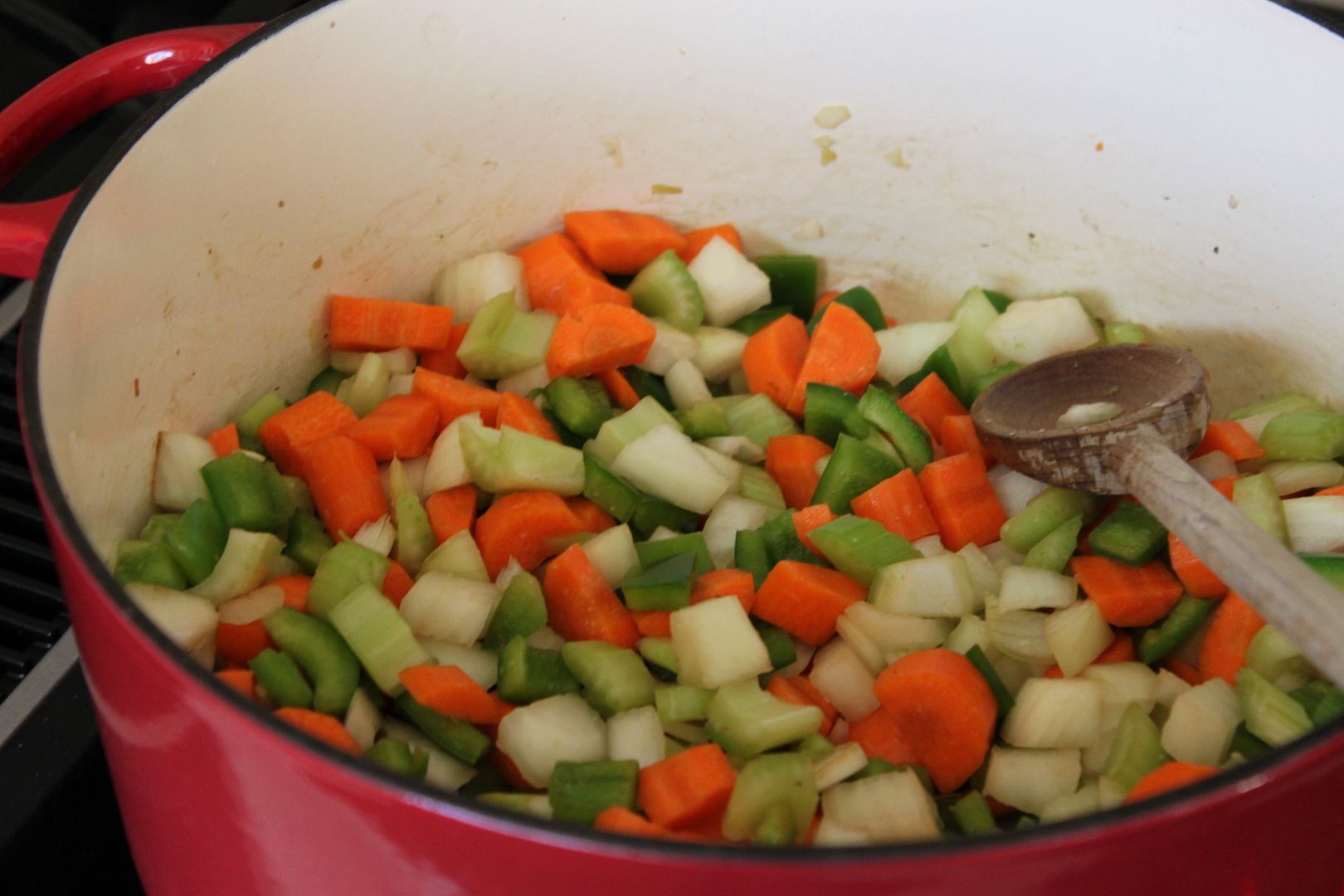 Add the cabbage, mushrooms, green beans, parsley, salt and pepper to the pot and cover with chicken stock. Cover and bring to a boil. Turn burner down to low and allow the soup to simmer for 20-30 minutes or until vegetables are just tender (not mushy).
For version 2 of the soup, add the canned tomatoes when you add the stock. Serve hot with a sprinkle of freshly grated Parmesan cheese.
Tune in later this week for some Cabbage Soup Diet tips and tricks that helped me survive the week without completely losing my mind!