Next up in my baking with pumpkin series are one of our favorite holiday morning treats – Pumpkin Cinnamon Rolls! We have eaten these every Christmas morning for the past couple of years and they are SO GOOD! Making cinnamon rolls can seem overwhelming and time consuming, but what I love about this dough is that it can be refrigerated overnight so you can do all the prep the day before and not have to worry about anything on Christmas morning. Just take them out of the fridge about an hour before you're going to bake them so they can come to room temp. We use that time to get a pot of coffee going, make hot cocoa, build a fire, and let our chocolate lab, Aries open her gifts (AKA a nice big bone she can chomp on and some other little treats lol).
Pumpkin Cinnamon Rolls
Ingredients
1 package (2 1/4 tsp.) active dry yeast
1/4 cup warm water (100-110 degrees)
3 – 4 cups flour, divided
3/4 cup canned pumpkin puree
1/2 cup warm milk
1/4 cup unsalted butter, melted
1/2 cup brown sugar
1 tsp. Kosher salt
1 tsp cinnamon
1/4 tsp. nutmeg
Filling
1 stick butter
2/3 cup white sugar
1/4 cup brown sugar
2 teaspoons cinnamon
1/2 tsp allspice
1/2 tsp ginger
1/4 tsp nutmeg
1/8 tsp cloves
Cream Cheese Frosting
4 ounces cream cheese
1 stick butter, softened
1 teaspoon vanilla extract
2 cups powdered sugar
Directions
1. Dissolve
yeast in warm water in a large bowl; let stand for 5 minutes until bubbles start to appear.
2. In the bowl of a stand mixer, add 3 cups flour, pumpkin, milk, butter, sugar, salt, cinnamon, and nutmeg. Using the dough hook attachment, beat with a mixer at medium speed until smooth (about 5-10 minutes). Dough should be tacky, but not sticky. Add flour in small amounts as needed. NOTE: If you don't have a stand mixer, just knead dough with your hands for about 10 minutes; adding flour as needed.
3. Place the dough inside a large bowl that has been sprayed lightly with cooking spray or oil. Cover the bowl with plastic wrap and let rise in a warm area of your kitchen until doubled in size.
4. Punch dough down; cover and let rest for 5 minutes.
5. In a small bowl combine sugar and spices.
6. On a floured surface, roll the dough into a 16×12 inch rectangle. Spread softened butter over dough and then sprinkle with the sugar and spice mixture. Starting with a long edge, roll up tightly; pinch seam and ends to seal. Cut the roll into 15 (1 inch) slices. Place rolls in a 9×12 inch baking pan coated with cooking spray. Cover and let rise 25 minutes or until doubled in size. At this point, you can either bake the rolls immediately or place in the refrigerator overnight. If you do refrigerate them overnight, take them out of the refrigerator about an hour before baking to allow to come to room temperature.
7. Preheat oven to 375 degrees (F). Bake for 20 minutes or until golden brown.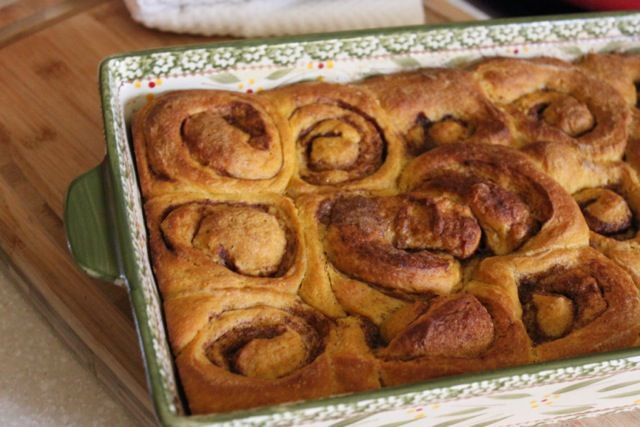 8. While rolls bake, prepare the cream cheese frosting. Using a stand or hand mixer, cream together the the cream cheese, butter, and vanilla in a small bowl. Add the powdered sugar until well mixed. Frost warm rolls with the cream cheese frosting and serve immediately.