Thank you to Kraft Foods for offering me the opportunity to recreate a recipe with PHILADELPHIA Cooking Creme. Please click here to learn more about all the PHILADELPHIA Cooking Creme flavors and recipes.
I'm a very big believer in cooking for my family every night. There's nothing like sitting down at the end of a long day to enjoy a hot, comforting meal with Mike and Lucas. It's a time to talk about our day, to laugh, to unwind, and to just be together. However, as all moms know…life is busy. It's not always easy to get a meal on the table every single night, which is why I'm always looking for quick and easy dinner recipes. One of the things that I look for in a recipe is that it doesn't include a lot of ingredients, which saves a lot of prep time. I want recipes that are easy while still including fresh foods, quality ingredients, and that will produce a satisfying meal.
That's why I love products like Kraft Foods' new PHILADELPHIA Cooking Creme, which comes in many different varieties like Savory Lemon & Herb, Creamy Pesto, Italian Cheese & Herb, and several others. It's basically an easy-to-blend creme that can be stirred right into skillets, casseroles, pasta and other dishes. Now, you don't have to stand at the stove for 10-15 minutes making a cream-based sauce. Instead, you can easily use one of the new PHILADELPHIA Cooking Cremes!
We recently made a delicious Baked Penne with Italian Sausage using the new Italian Cheese & Herb Creme that was to.die.for. The Creme is mixed with fresh veggies and spaghettie sauce, which comes together into a lovely tomato cream sauce within a few minutes. So easy, so quick, and so delicious! Check out the recipe below…
Baked Penne with Italian Sausage


Ingredients: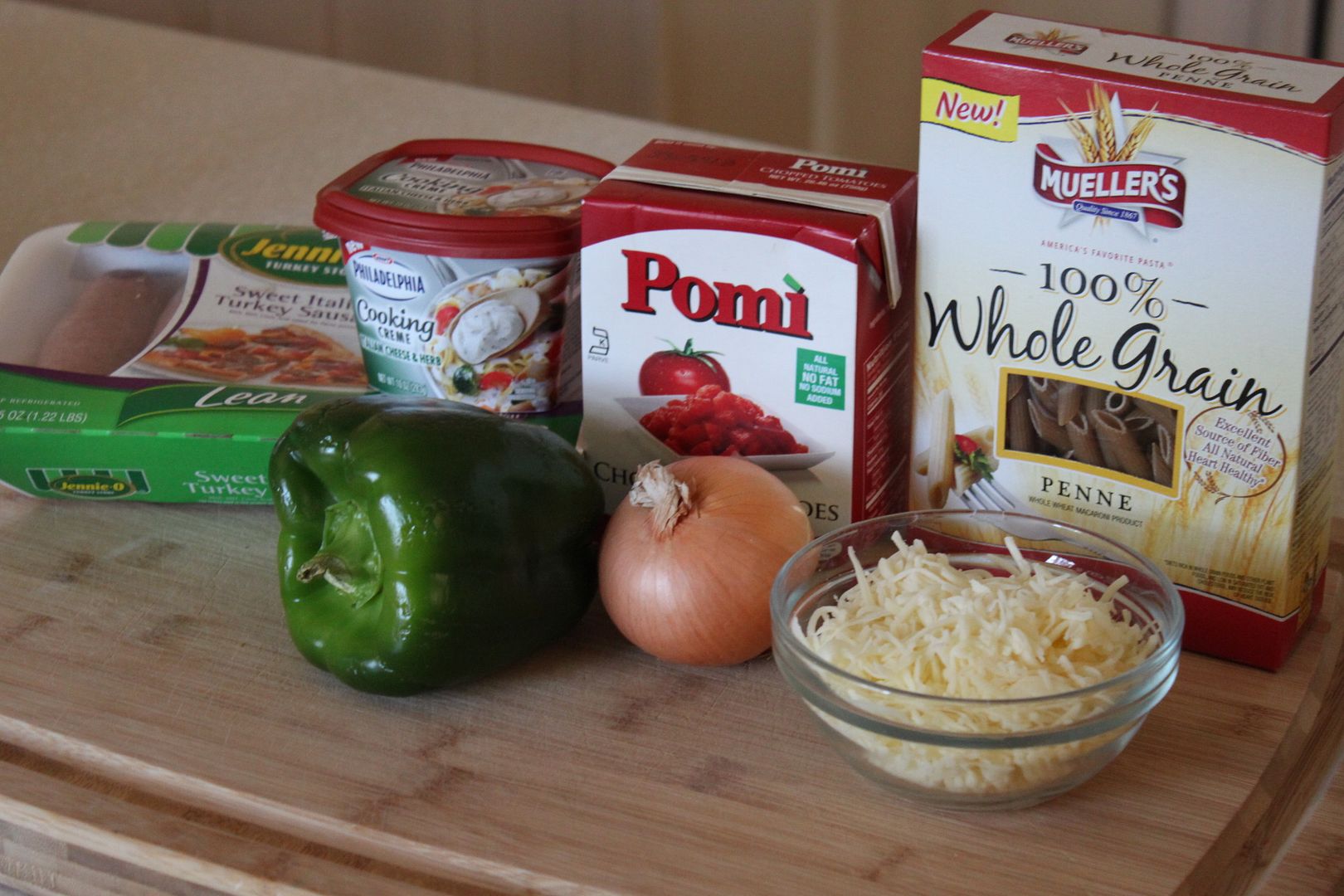 ½ lb. extra-lean ground beef or Italian sausage
½ cup each chopped onions and green peppers
1 jar (24 oz.) spaghetti sauce (or I use my own homemade)
1 tub (10 oz.) PHILADELPHIA Italian Cheese and Herb Cooking Creme, divided
1 cup KRAFT Shredded Mozzarella Cheese, divided
3 cups cooked penne pasta
Directions:
Heat oven to 350°F.
Brown meat with vegetables in large nonstick skillet. Stir in spaghetti sauce, 3/4 cup cooking creme and 1/2 cup mozzarella: cook and stir 2 to 3 min. or until mozzarella is melted.
Add pasta; mix lightly. Spoon into 2-qt. casserole; top with remaining cooking creme and mozzarella.
Cover.Bake 20 min. or until heated through, uncovering after 15 min. You want the cheese to be bubbly and golden.
I like to serve it with a sprinkling of fresh herbs and a side salad. Delish!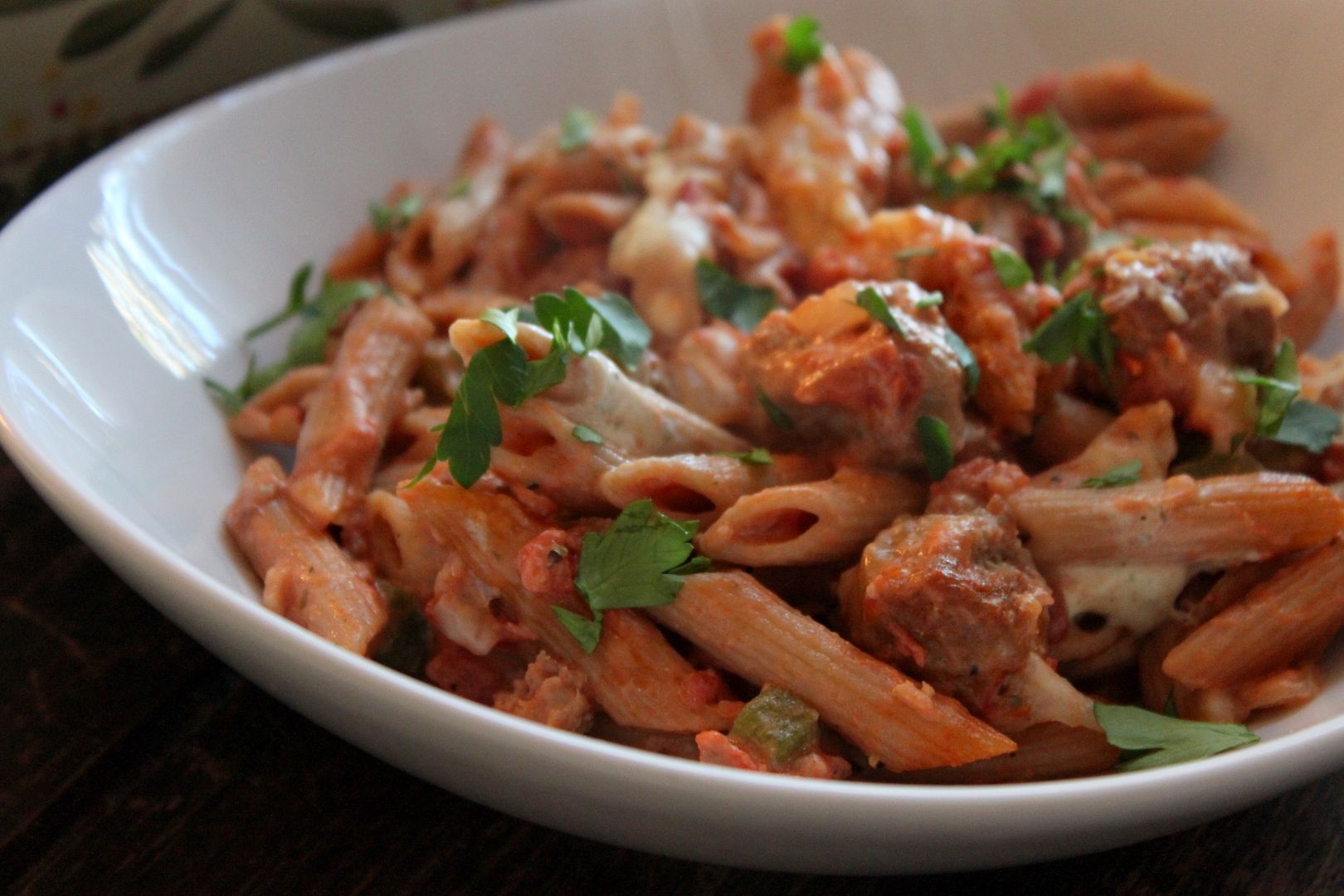 The Baked Penne with Italian Sausage was a huge hit in our house…check out the kiddo and hubby in the video raving about their yummy dinner!
PHILADELPHIA Cooking Creme is available at grocery stores across the country and comes in the following varieties:
· NEW Savory Lemon & Herb
· NEW Creamy Pesto
· NEW Reduced Fat Italian Cheese & Herb
· NEW Reduced Fat Savory Garlic
· Tomato & Basil
· Italian Cheese & Herb
· Savory Garlic
· Santa Fe Blend
· Original
Thank you again to Kraft Foods for sponsoring this blog post. I was selected as one of 20 bloggers by Technorati Media and Clever Girls Collective to participate in the Kraft Foods PHILADELPHIA Cooking Creme signature recipes campaign. While I have been compensated for my time and received the product, my opinions and experiences are my own.