There's nothing quite as comforting as a bowl of hot soup on a cold winter night. One of our favorites and a classic is chicken and dumplings.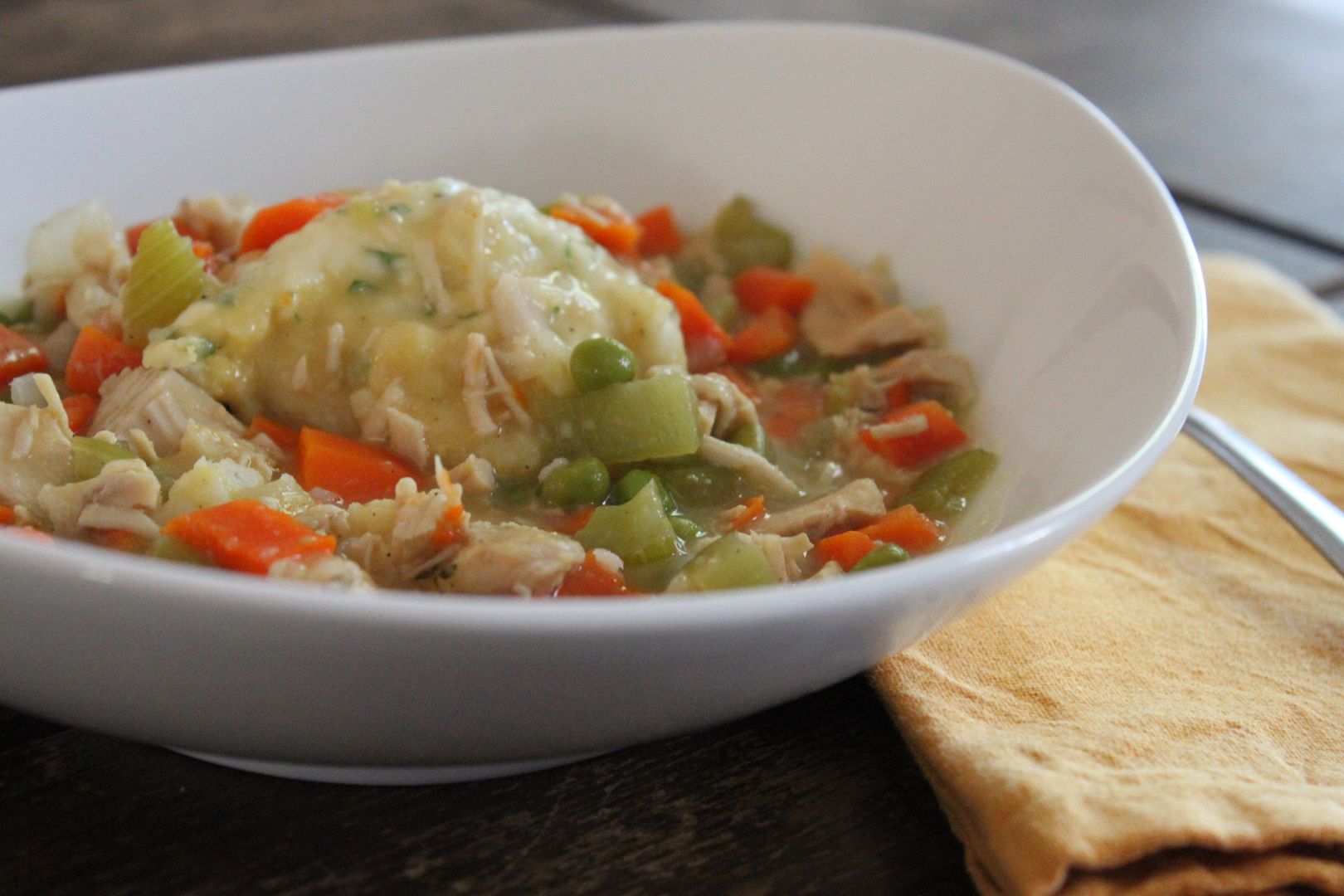 If you plan ahead, it can actually be quite easy to make chicken and dumplings by using the left over roast chicken from the previous night's dinner. If you don't have leftover chicken, then get a whole cut up chicken (or cut it yourself), brown the leg, thigh, and breast pieces, and then poach in water for about 30 minutes or until cooked through .Once it's done, remove the skin, take the chicken off the bone and it's ready for your stew. We usually do the latter though and buy an entire chicken just for the dumplings. I'll brown and poach the chicken the night before and I'll use the rest of the chicken pieces to make a homemade stock. Of course you can also use a low sodium store bought chicken stock as well. The real key to chicken and dumplings though are the dumplings. If you over mix the dumpling dough, you will have dumplings that are dense rather than soft, pillowy dumplings that melt in your mouth. The recipe below uses sifted cake flour so it really helps to lighten the dumplings. Try it and let me know what you think!
Chicken and Dumplings


Ingredients
1.5 pounds diced chicken leg, thigh and breast parts,  (roasted or poached)
2 teaspoons butter 
1.5 quarts chicken stock, heated (homemade stock recipe)
3 celery stalks, diced into 1/2-inch pieces
4 carrots, diced into 1/2-inch pieces
1 large onion, diced
6 Tbsp all-purpose flour
1 Tbsp fresh thyme
1/4 cup dry sherry 
1 cup frozen peas
Kosher salt and freshly ground black pepper to taste
Dumplings:
2 cups cake flour 
2 teaspoons baking powder
3/4 teaspoon salt
2 Tbsp butter, melted
3/4 cup milk
3 Tbsp fresh parsley, minced
1 Tbsp fresh Thyme
Directions:
Saute the onion, celery, carrot and thyme in the butter until soft and onions are translucent (about 10 minutes). Add the flour and stir for about 2 minutes until flour is absorbed. Add the sherry.
While constantly stirring, add the hot stock one ladle at a time and stir for a few seconds until combined. Continue adding the stock one ladle at a time until all of the stock has been added in. 
Add the chicken, bring to a simmer, and cover while you make the dumplings.
Sift the cake flour, baking powder, and salt in a medium bowl. Add the fresh herbs. Add the melted butter and milk to the dry ingredients. Gently mix with a wooden spoon until mixture just comes together. The dough will be wet and it will be lumpy–it's ok. You want the dough to just come together. Do not overmix or your dumplings will be dense!
Add in the frozen peas, stir, and bring the stew back up to a simmer.
Using a teaspoon, drop heaping mounds of the dumpling batter into the simmering stew. Cover and simmer until dumplings are cooked through, about 15-20 minutes. Do not open the pot until 15 minutes have passed or you will release the steam that is needed to cook the dumplings.