Lucas has had a fascination with computers ever since he was an itty bitty baby. It's to be expected though. Mommy is always on the computer for work, for fun, or blogging. He naturally wants to know what all the fuss is about. He's 19 months old now and he's been calling my laptop computer, "Pu" for quite a while now. He's been known to beg, cry, and throw some pretty bad temper tantrums to have the privilege of using my expensive computer. Sometimes he wins and I let him, but it's a heart stopping event every time. He touches everything and has probably done all sorts of bad things to my computer that I would rather not even think about. So, when I came across the award-winning software for babies and toddlers called Giggles Computer Funtime for Baby I had to know more.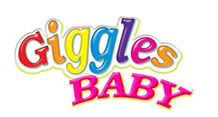 About the Software:
Giggles Computer Funtime For Baby™ is award-winning children's software by Leveractive that lets your baby tap and touch the keys on your computer for adorable on-screen fun. Lovingly crafted for babies 6-to-24 months old, the program locks out the system and protects your computer and files, allowing your little one to touch any key at all.
Giggles Computer Funtime for Baby is available in four titles: ABC's and 123's, My Animal Friends, Shapes, and Nursery Rhymes. I received ABC's and 123's to try out with Lucas. Before receiving it, I figured that Lucas would like any chance to play with the computer. What I didn't know was how much he would truly LOVE it, how much I would LOVE it, and how educational it really was! It was an instant hit with Lucas!
Why We Love It:
The games are educational and simply designed so that your baby can catch on.
It really locks up your computer so that your child can go to town with the software. No worrying that your computer will get messed up!
The characters are engaging and adorable.
The music is fun and you can choose from different songs.
Perfect for babies as young as 6 months because there is no sensory overload, but engaging and fun for older babies too.
Many fun games to choose from so that your child is never bored.
Ladies, I don't really know how to express in words how much I love this software. Seeing Lucas really be able to "discover" the computer, watching his face light-up and hearing his glees of joy while playing the Giggles games was such a treat for me. As you all know, I have reviewed many baby products here on Jolly Mom. As a mother, I have purchased even more than I have reviewed. I have to say that the Giggles Funtime for Baby makes it into my TOP 10 baby products EVER! I truly mean that! Every child should have this software. It's a great way for them to experience the computer, learn, and have fun.
See It In Action:
Want It: Giggles Computer Funtime for Baby is available in four titles and each title retails for $19.99. You can also try it for FREE with the trial version.
This giveaway is closed. Congratulations to the winner, The Dreamer. Winner has been emailed and has 48 hours to contact me.