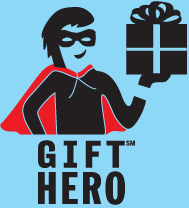 Buying birthday gifts for kids can be so time consuming. You stare and stare at the countless toys in the toy aisle without a clue as to what to buy. Will the child like it? Will the mom like it? That's why I am so excited to introduce you to Gift Hero–the way gift buying should be. Fun, easy, and quick! Gift Hero was founded by two moms-Lisa and Stefanie-just like you and me. After attending countless birthday parties with their kids, Lisa and Stefanie became disillusioned with the gift buying options so they decided to streamline the process for moms everywhere. Gift Hero was born!
Lisa and Stefanie test all the toys sold at Gift Hero–only allowing the best toys for that gender and age. That way you can shop with confidence knowing that the birthday boy or girl will love their gift. Plus, mom will love it too! They even designed a cute gift bag that you can add to your order further streamlining the process for you. Plus, it is the GREEN way to "wrap" gifts! It is a reusable, drawstring gift bag made from 100% recycled materials. No more paper or plastic waste! At $3.00–this cute gift bag is also affordable!
I had the wonderful opportunity to try Gift Hero out and I have to say that their site is so easy to use! They have their toy selection categorized by age and gender and then again by price–this makes it super easy and quick to navigate and find the perfect gift.
Not to mention that their selection of toys is awesome! I loved seeing some of my favorite brands like Green Toys and Melissa and Doug, but also loved discovering some new toys that I'd never seen before. I ended up choosing the Automoblox Mini Car Set for Lucas and Gift Hero did not disappoint. The gift arrived super quick and is a hit with Lucas!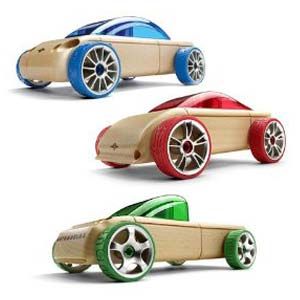 This contest is closed. Congratulations to the winner, Jinxy and Me!