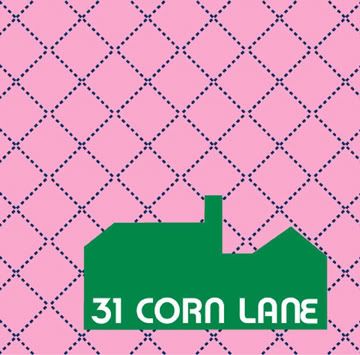 I'm a
BAGaholic
. There I said it. I love bags. Totes. Clutches. Purses. Shoulder bags. Doesn't really matter what type, I just love bags. I'm always on the lookout for great totes and bags that are unique and show off my personality. Recently, I was lucky enough to stumble on an amazing online boutique called 31 Corn Lane, which sells the cutest totes and accessories.
31 Corn Lane
designs are fun and flirty with a funky twist on the classic design.
31 Corn Lane was founded and is owned by four of the coolest ladies around. They happen to all be sisters and they design every delicious creation at 31 Corn Lane. The Sperber sisters are truly some of the most fun ladies I have come across in a very long time!
They recently launched their new line, called the Rumson Country Day Collection, which features sweet, feminine details like quilting and ruffles. I received the Reversible Messenger Bag with ruffled flap and the Quilted Coin Case with ruffle both from the Rumson Country Day Collection. The messenger bag is extremely well-made with thick quilting and the cutest ruffles. The best thing about this bag is that it is pretty much 2 bags in 1. It is completely reversible. It is Navy quilted cotton on one side and Kelly green quilted cotton on the other. The bag closes with the cutest ruffled flap and the green side has a nicely sized zip pocket.
The Quilted Coin Case is so adorable and is now a permanent staple in whichever bag I am carrying for the day. It reminds me of better days gone by. Kind of like a vintage design, but with a modern twist and I am a total sucker for anything vintage.
I couldn't let these fabulous ladies get away without us getting to know them a little better. So, without further ado, meet 3 of the Sperber sisters: Heather, Amy, and Teeter.
Tell us a little bit about the Sperber sisters.
Oh my goodness, where to even begin!? The basics: We're all totally loud, weird and keepin'-it-real style chubby. We love small dogs, Rihanna and free snacks of any shape or size. We grew up in suburban New Jersey and were collectively obsessed with musics; both making it and listening to it. We used to wear pastel colored elasticized ankle sweatpants on purpose.
Why did you gals start 31 Corn Lane? What inspired it?
It is a neat story, actually! We reaaaallly wanted to live in this artist subsidized (read: super affordable) housing community in NYC. So we pretended to be artists! We schemed up the entire company, to try and look like we were struggling to live off our creations. We had to produce actual tote bags to show the review board, so we hand-made 'em in our little West Village apartment.It was only when people wanted to snatch up the leftover totes did we realize that we could likely continue to make and sell em, legit-style. It ended up being the very most awesome fib we ever told.

What is the meaning behind the name 31 Corn Lane?
31 Corn Lane is the address in New Jersey where we all grew up. Mom and Dad and the pooches even still live there! It's where all of our ridiculous sisterly memories were made. Bike gangs, choreographed jazz dance routines, front lawn battles, out-of-control pool parties – you name it, we made it happen at 31CL. Sowhen the time came to name the biz – it made sense to pay homage to our supercool upbringing! Dad gets worried when random people poke around by the house trying to see if we're there – it's a safety issue, he says.

What inspires your designs?
Every design we've ever made, and at this point we've designed over 20 lines, has been inspired by our family or our childhood. We've made bags inspired by our 86 year old Aunt Lonnie, our 6th grade Science teachers pants, our neighborhood gymnastics school and even dedicated entire collections to our undying love for 80's lady cartoon icon, Holly Hobbie. Anything that we can remember, we can incorporate into a design! We even name-checked boys we used to obsess over who, well, didn't necessarily obsess over us back, on one of our product hang tags. (Watch out, Kyle LeBaron, Darrell George and Scotty Raynor – now the world knows of the collective Sperber Sis struggles with unrequited pre-teen love!)
Who writes your fabulous product descriptions? And, how do you come up with them?
OH HOW I JUST LOVE THIS QUESTION! It's me, kid sis Teeter. I write all the product descrips and general company copy. Thanks so much for the snaps! I write very much how I speak, which is essentially like a crazy person with a fairly firm grasp on reality but an equally flimsy grasp on proper excecution of the English language. So I just make up my own words and meanings and such. And I use ten! tonz! of exclamation! pointz! for maje! emphasis! And it's always maximum e-z to be silly because I'm writing about us. If I had to write about something serious, like politics or chemistry, it'd be a total snooze.Swares.
What can't you live without?
We can't live without the following: Claussen pickles, snuggly pooches, hair gloss, cheese-n-crackers and the rest of the extended Sperber Gang. Addendum: we also can't live without Flight of the Conchords, Summer Heights High, Friday Night Lights, The Hills, The City, Mad Men, Gossip Girl or True Blood. Oof, embarassing!
What is your number one resolution for 2009?
Sis Aim: to vacation in a treehouse and to brush her hair and put together a cute look everyday.
Sis Heath: to be her mostest positive self.
Teet: to see The Gaslight Anthem live. (OMG Best Band of Right Now/Ever! Besides The Jonas Brothers, natch, who might be the best band of all time besides The Beatles OMG please don't ever tell anyone who truly likes musics that she said that). And to make sure the sisses see every single episode of Friday Night Lights ever made so that they can finally understand her deep fictional feelings for Tim Riggins.Thanks JollyMom, yr tops! xoxoxo31CL
Aren't the Sperber Sisters some of the COOLEST ladies ever?!
Want it: The Sperber sisters have generously offered all Jolly Mom readers a discount on the bag that I received! Click HERE to get the Reversible Messenger Bag for $14 (Reg. $25)!!

This giveaway has ended. Congratulations to the winner Alexis AKA MOM!