One of my resolutions for the New Year is to get off the couch and move! I need to drop some weight and there's no better way to do than with exercise. I need to be motivated when I work out though and there's nothing better than having the perfect songs to work out to. Another way to pass the time while you workout is by listening to audio books. It keeps you entertained and your mind distracted from the pain!
That's why an MP3 player is a must if you workout. I recently discovered the Zen Mozaic MP3 Player by Creative Labs and I have to say that I am very impressed. It is loaded with features that you can't find unless you are willing to spend a lot of money. The Zen Mozaic is available in 2GB, 4GB, 8GB, or 16GB and the player has a really unique mosaic keypad that shows off your sense of style. You can store pictures and play them back on the 1.8" screen or go ahead and watch a video. It even has a built-in speaker so that you can listen to your favorite tunes with others. Another great feature is that the Zen Mozaic has an integrated FM radio, which means you can listen to your favorite station, listen to the news, hear traffic updates, etc.
Other Notable Features:
Create and record voice memos.
Listen to your music in multiple supported formats such as MP3, WMA and Audible 4.
Use it to display the time, as a handy alarm clock, or even to view your calendar and contacts.
Set audio effects to enhance your overall music listening experience. Choose from 8 EQ presets or customize your own EQ, and enhance it all with bass boost and smart volume effects.
Enjoy the ultimate collection of free video and audio podcast channels on www.zencast.com. Manage all your favorite subscriptions with ZEN cast Organizer and experience the best of the free-to-share formats available.
I received the 2G Zen Mozaic in pink and it is my new best friend. I use it while I clean the house, go on walks with Lucas, on the treadmill, and while I cook. I'm even thinking it's going to the grocery store with me the next time I go. It's great! Through my local library, I am able to download FREE audio books that I have been wanting to read. I lack the time to sit down with a book so being able to use the Zen Mozaic to listen to a book gives me the ability to multi-task.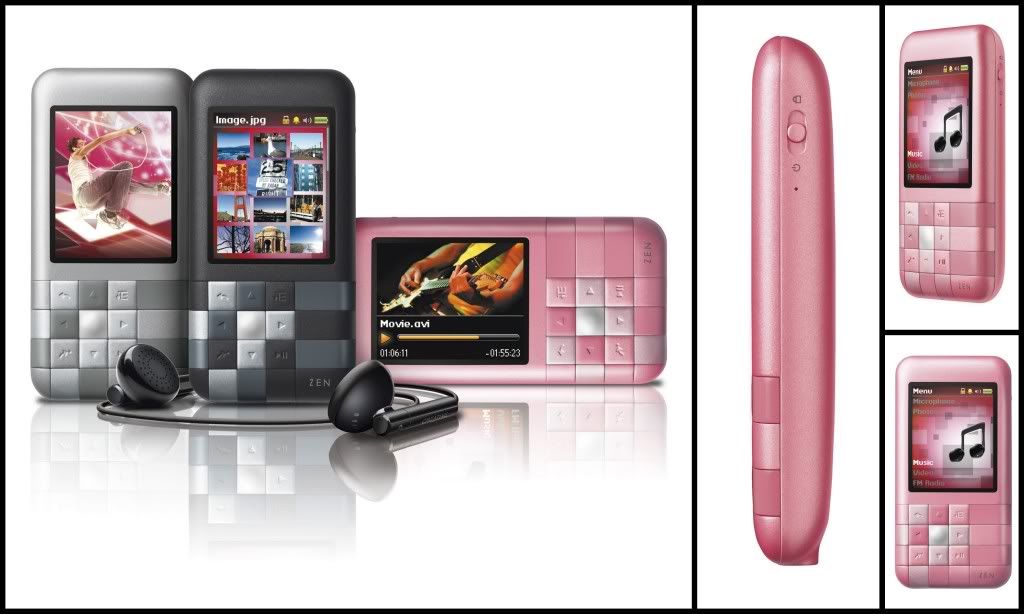 At $59.99 for the 2G, the Zen Mozaic is
extremely affordable
! For a limited time only, you can get a FREE 3 month Napster subscription– a $44.85 value — with the purchase of a new ZEN Mozaic.
So, now for the REALLY COOL part! Creative Labs has generously offered to give one Jolly Mom reader a Pink Zen Mozaic MP3 Player (2G)! But,it doesn't end there-when I said Creative Labs is generous, I meant VERY generous! They have also offered to give away a Vado Pocket Video Cam over at Go Graham Go! So, go ahead and enter here at Jolly Mom for a chance to win the Zen Mozaic and then head over to Go Graham Go to win the Vado Pocket Video Cam!
How to Enter:
1. Visit
Creative Labs
and tell me which product BESIDES the Zen Mozaic MP3 Player and the Vado Pocket Video Cam that you would like to own.
After you have completed the first entry, you are eligible for additional entries. Make sure you leave a separate comment for EACH entry.
Additional Entries:
2. Enter the "Mom Time in '09" giveaway at Go Graham Go.
3. Blog about the two giveaways and link to Creative Labs, _____________, www.gograhamgo.com, and www.jollymom.com and leave the link to your post in the comment.
5. Subscribe to Jolly Mom by reader or email or Follow on blogger.
6. Follow Jolly Mom on Twitter and Tweet about this giveaway.
7. Stumble this post (the post, not the site).
8. Add the "Mom Time in '09" button to your sidebar.
9. Add the Jolly Mom button to your sidebar.