Honk your horns! If you have a little Chuggington fan at home, but you haven't wanted to invest in the new toy trains because they weren't compatible with your existing train sets…I have great news for you! Learning Curve has just launched new wooden Chuggington train sets that are indeed compatible with other wooden train sets and die cast trains. Check them out…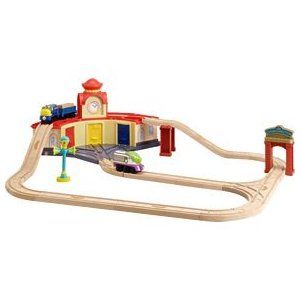 Double-Decker Roundhouse with Elevating Turntable
This double-decker roundhouse has a unique 2-in-1 design for more ways to play! Stack for two levels or unstack for two separate roundhouses! Includes elevating turntable, tower tunnel and bonus switch track adaptor. 2-in-1 design creates more ways to play
Real wood construction
Compatible with other wooden track systems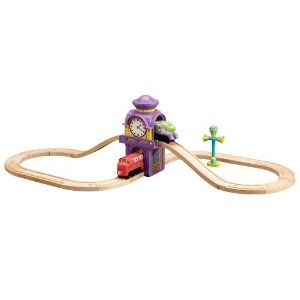 This 22-piece set features a 2-in-1 Clock Tower: stack for tower or unstack for two separate tunnels! Includes Wilson, Koko, and Vee.2-in-1 design creates more ways to play
Real wood construction
Exclusive Chuggington Track
Compatible with other wooden track systems
There are also additional track packs available so that your kids can expand their train tracks or even multi-level packs to create elevated tracks.
I think it is wonderful that Learning Curve came out with these new sets because parents don't want to have to go out and buy every new train set that comes out. Not only is it expensive, but they also take up a lot of space. Space that is at a premium at most of our homes. Now with these new wooden sets, kids can use them interchangeably with their their other die cast trains and wooden train tracks. That's definitely something to honk your horns about!
This giveaway is closed. Congratulations to the winner, Mama V!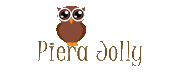 The featured product{s} in this post were provided to me free of charge by the manufacturer or pr company representing the company. All opinions expressed in this review are my own and not influenced in any way by anyone. Please refer to this site's Terms of Use for more information.