Many years ago, when Mike and I were dating, I set up a
treasure hunt
for one of his birthdays. I bought him a bunch of gifts and hid them throughout my apartment. I started with a little clue wrapped in a big box for him to open first. He was so excited when he figured out that he would have to "hunt" for his gifts! That clue led him to the first gift where I had placed a clue to next gift and so on. He thought that it was the greatest thing EVER! So much so that he set up a treasure hunt for me one year for Valentines Day and then another for one of my birthdays. It really is a fun and very unique way to give someone their gifts. They will never forget it! Recently I was asked if I would review a new book by Nancy Kruse, called
"Treasure Hunt: A Book of Clues for Parties"
, which comes chock full of ideas and clues to throw a Treasure Hunt party! I am so excited about this book-it is SO COOL!
About the Book (from the website):
"Treasure Hunt – A Book of Clues for Parties" has over 100 clues to use to create a new experience in gift giving. It has beginning and ending clues, action clues, outside clues, clues for every room in your house, and clues for the garage, game room, basement and attic. There are even a few for extra fun at Christmas! This book was designed for any party or occasion where a gift or gifts are to be given. Why just sit a person down and hand them their gifts when you can have so much more fun making them find them with clues? In most "Treasure Hunt" parties, the gifts are for a single individual, but the clues provide a sense of participation for the guests and with some of the clues, actual participation for everyone. You can also vary your "Treasure Hunt" party by alternating clues to different individuals.
About the Author (from the website):
Nancy Kruse is the exciting new author of "Treasure Hunt – A Book of Clues for Parties." She has traveled extensively and has lived in 8 states with her husband, an underground construciton inspector, and her four daughters. She enjoys reading, writing poetry, and new creative projects. She currently lives in rural Georgia.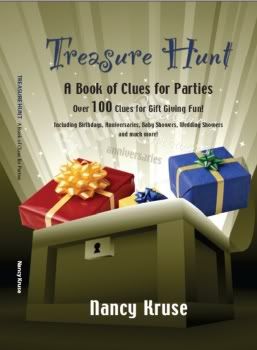 I received a copy of "Treasure Hunt: A Book of Clues for Parties" to review and ever since I read it; all I can think about is planning a Treasure Hunt Party! The book gives you all of the information that you will need to plan the perfect treasure hunt party. Nancy walks you through the entire process by giving you over 100 clues to use for your parties. The clues are set up to be used for either the beginning of the treasure hunt, the middle, or the end. Nancy even gives you suggestions as to where to hide the clues!
The clues are meant to be read aloud by either the guest of honor or the other guests. They are basically written like poems or riddles. The clues are fun and meant to make everyone feel included. My favorite clues are the "action clues" where the person reading the clue has to DO something to get the next clue (i.e. sing a song, teach the other guests a dance, and other fun stuff). What's really great about the book though is that YOU choose which clues you want to use so if you don't think the guest of honor will feel comfortable with an action clue then just don't use it.
To have a treasure hunt party you will only need to use a handful of clues so 100 clues will get you through many parties without ruining the suspense for guests who have participated before. I think this book would be AWESOME to use at a baby shower or wedding shower. I really dislike traditional shower games, but a treasure hunt shower would be so much fun and very unique. Obviously, it would be really great to plan a treasure hunt party for birthdays, anniversaries, or even Christmas! Both adults and kids would enjoy it!
As soon as I have a reason to throw a party, it will DEFINITELY be a Treasure Hunt party and I promise to blog about it! Can you tell that I'm excited?! LOL I love stuff like this!
Want It: Buy "Treasure Hunt: A Book of Clues for Parties" for $12.95 plus FREE shipping at Amazon.
This contest is closed. Congratulations to the winner, Melissa (meinezweijungen)! Winner has been emailed and has 48 hours to contact me.